Book Talk with Jeffrey S. Gurock
Saturday, September 30, 2023
•
15 Tishrei 5784
6:30 PM - 7:15 PM
Main Sanctuary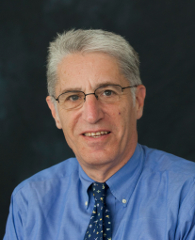 Marty Glickman: Sportscaster, Athlete, American Jew

Join us on Sukkot Day 1, for a discussion with Jeffrey S. Gurock about his new book titled Marty Glickman: The Life of An American Jewish Sports Legend.
Jeffrey S. Gurock is the Libby M. Klaperman Professor of Jewish History at Yeshiva University. He is the author or editor of twenty five books and over 100 scholarly articles.
For close to half a century after World War II, Marty Glickman was the voice of New York sports. His distinctive style of broadcasting, on television and especially on the radio, garnered for him legions of fans who would not miss his play-by-play accounts.
His vocabulary and method of broadcasting left an indelible mark on the industry, and many of today's most famous sportscasters were Glickman disciples. To this very day, many fans who grew up listening to his coverage of Knicks basketball and Giants football games, among the myriad of events that Glickman covered, recall fondly, and can still recite, his descriptions of actions in arenas and stadiums. In Marty Glickman, Jeffrey S. Gurock showcases the life of this important contributor to American popular culture.
The first comprehensive biography of the preeminent voice of New York sports
"Marty Glickman was one of the greatest sportscasters of all time, a true pioneer in the industry. He was
instrumental in guiding me in my career, and he was equally generous in providing advice to young
sportscasters throughout the country. His is a unique life story, all captured beautifully by Jeffrey Gurock."
—Marv Albert, Basketball Hall of Fame and inductee of the Sports Broadcasting Hall of Fame
Mincha will be at 6:00 PM followed by the Book Talk at 6:30 PM in the Main Sanctuary. All are welcome!
Share Print Save To My Calendar
Thu, December 7 2023 24 Kislev 5784